Strategic Partnerships Crucial For Transformative Educational Interventions in India and South Africa
Authors: Pranav Kothari & Swarnali Chakraborty
Executive Summary
The article delves into the critical challenges facing education systems in India and South Africa, contextualized within a broader global crisis of learning poverty as reported by The World Bank, UNESCO, and UNICEF. It argues that tackling educational inequities requires more than traditional pedagogy or standalone EdTech solutions. It highlights the need for strategic partnerships in these countries to scale pedagogically rich learning solutions and Ei's work in employing such partnerships with philanthropists, corporates, and government bodies to amplify the impact of its flagship products like Ei Mindspark. These partnerships focus on measurable outcomes, scalability, and customization to meet diverse learning needs. Cases in point include collaborations with the Get It Done Foundation in South Africa and Procter & Gamble India, among others. The article emphasizes the importance of rigorous evaluation frameworks like Key Performance Indicators and data analytics to ensure efficacy. Ultimately, these strategic alliances aim to transform education in India and South Africa, making strides in accessibility, quality, and equity.
Learning levels in India and South Africa
India and South Africa, deeply connected by a shared colonial past and a journey towards self-determination, are on the cusp of significant changes in their education systems. Yet, it's crucial to contextualize these challenges within a broader global framework.
Although the common perception may be that global learning levels have drastically fallen due to the COVID-19 pandemic, this notion is not true.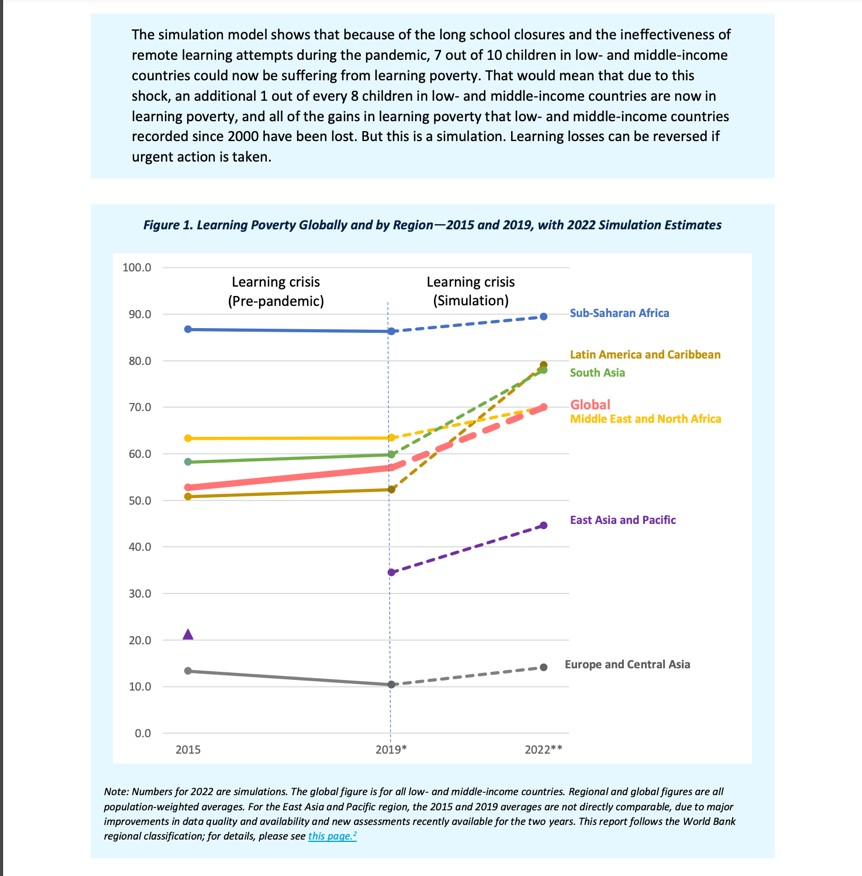 Source: The State of Global Learning Poverty: 2022 Update
The State of Global Learning Poverty: 2022 Update by The World Bank, UNESCO, and UNICEF, states that the world was already confronting a severe learning crisis before the pandemic. The report states that nearly 60% of ten-year-olds in low- and middle-income countries could not read and understand a simple story. In Sub-Saharan Africa, the learning poverty rate was as high as 86% as of 2019.
The same report also sheds light on the economic repercussions of this crisis. It reveals that the current generation of students worldwide risks losing $21 trillion in lifetime earnings, which amounts to 16% of today's global GDP. This economic impact is particularly acute in low- and middle-income countries, underscoring that educational disparities are a global rather than a regional challenge.
Against this global backdrop, the educational shortfalls in India and South Africa become even more pressing.
International assessments such as PISA, TIMSS, and PIRLS spotlight the glaring gaps in education quality. South Africa's OECD ranking was a dismal 75th out of 76 countries in 2015, while Indian states like Himachal Pradesh and Tamil Nadu ranked 72nd out of 73 participating countries in the 2009 PISA assessment.
In the early years of its inception, Ei conducted a significant study across five metro cities in India, in partnership with Wipro. The aim was to measure learning levels in India against international benchmarks. The results were startling—the schools where the tests were conducted were among the most prestigious in India and still lagged behind the international average. This revelation became a cover story in India Today in 2006, capturing significant media attention and catalysing discussions around educational quality.
This large-scale study fundamentally shifted the narrative. The prevailing perception was that India's education system, evidenced by the success of IIT graduates and expatriates in leadership roles in MNCs was robust. However, the study demonstrated that this success was not a product of the system but occurred in spite of it. This led to a paradigm shift in education policy circles, underscoring the need to focus on learning outcomes rather than inputs.
Such data-backed insights add another layer of urgency to revaluating traditional pedagogical approaches that perpetuate educational inequities. Quality education for marginalized communities further complicates the already intricate challenge facing India, South Africa, and indeed, the world.
Strategic partnerships to tackle the challenge of low learning levels
Central to Ei's approach is the recognition that neither traditional methods nor standalone EdTech offerings can comprehensively address the colossal task of providing scalable, affordable, and personalised learning solutions.
Strategic partnerships are our answer. They present an unparalleled opportunity to create effective, interventions at scale that dispel the 'one-size-fits-all' myth in education.
What is a 'strategic partnership'?
Strategic partnership refers to a focused and deliberate collaboration between philanthropists, corporates, and government bodies to pool-in resources, expertise and innovations and to enhance the effectiveness of EdTech solutions. Partnerships need to be driven towards improving aspects like procurement, project delivery and performance measurement in a more evidence-based manner. The aim of a strategic partnership should be to maximise the learning outcomes from each dollar spent, leveraging EdTech to provide scalable access to high-quality instruction and customise the learning path for students. It involves an intentional alignment of resources, planning, and goals to create a meaningful impact in the educational sector.
To this end, Ei's partnerships have enabled us to develop cutting-edge EdTech solutions that bring student-centric approaches and digital interactivity to the forefront, catering to diverse learning needs. Furthermore, the synergy between pedagogical innovations and technological infrastructure generated by these collaborations leads to measurable gains in student learning outcomes.
Ei's commitment to transforming education in South Africa and India is not a solo venture. It is a testament to the strength of our collaborative approach and collective action. Esteemed organisations have joined us on this journey, each addressing a specific facet of the educational challenge.
The story in South Africa so far
In South Africa, the Get It Done Foundation helps to address the financial constraints that often hinder the deployment of innovative education solutions. They provide the required funding for implementing our Personalised Adaptive Learning solution – Ei Mindspark across schools, allowing us to concentrate on pedagogical innovation and teaching effectiveness instead of financial viability.
Alongside these efforts, our partnership with Bridge Innovation and Learning Organization and Penreach is a strategic response to the paramount importance of teacher quality in student success. These organisations bring their expertise in project management and robust teacher training, bolstering the educational system from within and facilitating sustained improvements in teaching methodologies.
In recognising the value of real-world teaching experience and professional development, our partnership with the Global Teachers Institute offers a unique internship program. Aspiring teachers train on the job, directly augmenting classroom instruction and learning outcomes. In collaboration with the Edutech Institute South Africa, we provide Ei Mindspark, which breaks free from the traditional teaching model's constraints by tailoring the learning experience to each student's needs.
The impact in the Indian context
In India, our collaborations are marked by a precise alignment of strategic objectives and resources. The partnership with Procter & Gamble India through their P&G Shiksha campaign primarily involves funding the deployment of Ei Mindspark across 10 states, thereby widening the reach of our high-quality learning solutions. Similarly, our joint venture with Amazon Future Engineers in implementing the Amazon Wonder Girls Programme in Telangana government schools combines Ei Mindspark's Personalised Adaptive Learning with basic coding skills. The Naandi Foundation, under Project Nanhi Kali, facilitates the delivery of Ei Mindspark to over 5,800 centres and more than 1.5 lakh girls, even in areas with inconsistent internet access, using innovative solutions like tablets and Raspberry Pi servers. Both these alliances aim to bridge the gender gap in STEM subjects, fostering girls' empowerment and comprehension. The Bharat EdTech Initiative, a coalition involving multiple stakeholders aims to extend the access to EdTech to 1 million underprivileged students, thus transforming India's engagement with educational technology. Each of our partners bring-in their resources (e.g. P&G), technical expertise (Amazon team) and experience of deploying interventions at scale (e.g. Naandi, Magic Bus) to ensure that all interventions yield desired impact.
Ei & Naandi: Partnering for Impact
Strategic partnerships hold paramount importance in enhancing the efficacy of educational interventions, as exemplified by the collaboration between Ei and the Naandi Foundation through Project Nanhi Kali. Focused on empowering underprivileged girls, this alliance synergized Ei's proficiency in educational technology and assessments with Naandi Foundation's established track record in large-scale educational delivery.
The integration of Ei's Personalised Adaptive Learning offering, Ei Mindspark into Nanhi Kali's existing framework addressed two core objectives: fine-tuning conditions that catalyse Ei Mindspark's utility within the project, and scaling up through customisation and capacity-building.
Enriched with large scale data on student learning collected over two decades, deep pedagogical research and the right educational technology, Ei Mindspark augmented Naandi Foundation's decade-long commitment to equipping girls with quality education. The product was preloaded onto tablets, ensuring accessibility even in remote locations, supported by local servers.
Under this partnership, Ei Mindspark was deployed in over 6,000 Academic Support Centres, benefiting more than 175,000 Nanhi Kalis. The result was a daily engagement time of 40-60 minutes per student, leading to demonstrable improvements in learning outcomes.
This partnership serves as a blueprint for harnessing collective expertise to address the educational inequities magnified by factors such as gender and socio-economic status. It is a testament to the power of strategic partnerships in delivering scalable and impactful educational solutions.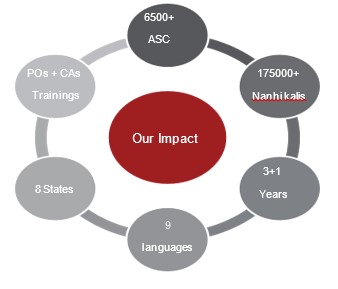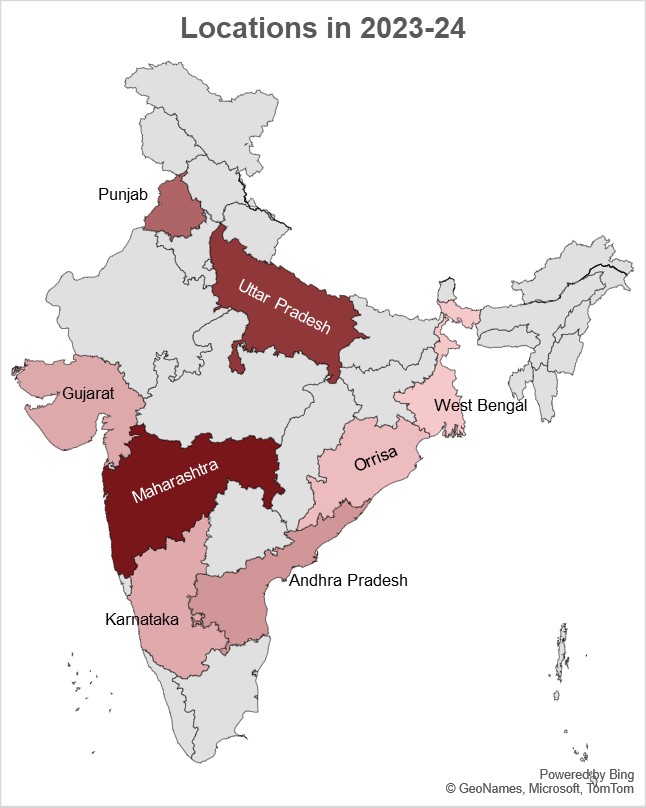 Measuring the efficacy of partnerships[A1]
While partnerships are undeniably instrumental in transforming education, there remains the imperative question of how to assess their efficacy rigorously. In navigating this complex tapestry of multi-sector collaborations, a multi-dimensional evaluation framework is indispensable.
Key Performance Indicators (KPIs) serve as the bedrock of this framework. Metrics such as learning outcomes, the scale of impact, user engagement, and cost-effectiveness offer quantifiable measures of success.
The utility of data analytics in this schema cannot be overstated. A before-and-after analysis of learning levels provides immediate insights into the effectiveness of interventions, while comparative studies offer a more expansive view. Evidence-based models such as Randomized Controlled Trials (RCTs) and longitudinal studies make the conclusions drawn from them irrefutable.
This robust evaluation framework ensures that each partnership is not just strategic but also effective, measurable, and continually optimized. As a result, we aren't just building alliances; we're fortifying them with data-driven insights to ensure that they remain agile, impactful, and aligned with our mission to revolutionize education across geographies.
By leveraging these strategic partnerships, we are collaboratively tackling the multifaceted challenges in education, each focusing on a unique aspect of the problem. Our joint efforts are making strides in reshaping the educational landscape, fostering a more inclusive and effective learning environment in both South Africa and India.
Our strategic partnerships underscore our commitment to transform education in India and South Africa. With these alliances, we aim to bridge gaps in access, enhance the quality of learning, and promote equity in education. We believe in the power of collective action and the transformational potential of edtech. By harnessing this, we aim to fulfil our mission of creating a world where children everywhere are learning with understanding.